Please click on the link below to take you directly to the
2018 online registrations page………
Auskick registration coming soon…
Contact Anthony Theunissen on auskick@stmarysgjfc.com.au
for information and expressions of interest for coaching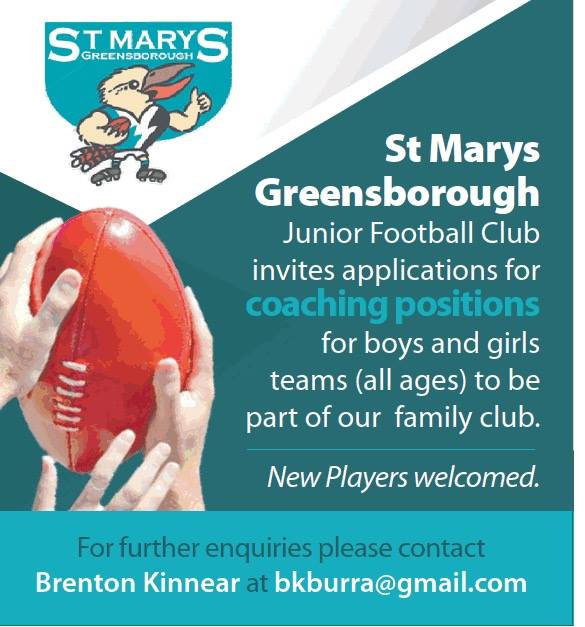 Dear Members,
I am pleased to advise that the St Marys GJFC committee has been elected for the 2018 season. The contact details for the 2018 committee can be found here.
As a Club, we are really fortunate to have such talented, passionate and professional volunteers who are committed to fostering a supportive environment for children to play our great game. Our President, Paul Tobin, acknowledged the special efforts of Anthony Theunissen in establishing an Auskick clinic at St Mary's. To have 48 registered players in Auskick is an extraordinary achievement and provides a wonderful platform to grow the program in the future. Paul also highlighted the extraordinary contributions of all our weekly volunteers. Each week, St Mary's GJFC has approximately 250 parents performing a volunteer role whether that be as a coach, a goal umpire or interchange steward. Moving to the future, Paul outlined the committee's vision for 2018 which includes:
Positioning St Mary's GJFC as a community leader and destination club in our region;
To enhance our support and training to volunteers;
To ensure that we have the best resourced football department in the region with quality coaches that focus on development and enjoyment;
Capital development at Whatmough and Greensborough Park that includes more seating and under cover areas.
Our Football Director Brenton Kinnear highlighted the benefits of children playing competitive sports. Whilst we don't measure success by premierships, Brenton highlighted that 72% of our teams made finals which demonstrates competitiveness and 26 players finished in the top 10 in the Best and Fairest in the YJFL which is a credit to our wonderful coaches. Moving to the future, Brenton outlined his vision for the 2018 season:
More emphasis placed on training on our coaches and volunteers in the 2018 season.
Enhancing investment in our football department to ensure that the club has best equipment.
Introduction of Dynamic Football program for all players to enhance their development and fitness.
Establishment of a St Marys GJFC Academy to compliment and support players in the Northern Knights and YJFL representative teams.
The 2017 Executive reports can be found as follows:
On behalf of the St Mary's GJFC Committee, we thank you for your support and contribution to match day roles. We are excited with what the future holds and look forward to your assistance in ensuring we have a great environment for our children to play our great game.
Go Burra!!!
Michael Mefflin
Secretary
St Mary's Greensborough Junior Football Club