Sponsor:
Coach:
Gary Cutler - 0415 160 548
Team Manager:
Ange Bellissimo - 0458 022 342
Age Group Manager:
Mick Batchelor - 0417 508 288
Training Times:
Tuesday 4.30-6pm Greensborough Park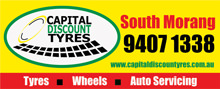 Round 2 - 04/27/2014
St Mary's Under 11 - 2014 Under 11 - Blue 1.2.8
vs.

Beverley Hills 13.9.87

The boys met a much bigger and stronger team, but tried hard all day. We played a bit loose, but in the last quarter we played man on man and had a very good qtr. If we continue to work hard we will improve every week.

Charlie MacGibbon, Eric Sanelli, Aden Butera, Jacob Robinson, Patty Dooley, Lucas Caserta

Thank you to all the parent helpers on Sunday - All parents please continue to help.