Sponsor:
Coach:
Gary Cutler - 0415 160 548
Team Manager:
Ange Bellissimo - 0458 022 342
Age Group Manager:
Mick Batchelor - 0417 508 288
Training Times:
Tuesday 4.30-6pm Greensborough Park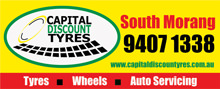 Round 7 - 06/01/2014
St Mary's Under 11 - 2014 Under 11 - Blue 4.6.30
vs.

Bundoora 5.3.33

We travelled to Bundoora on a wet & miserable day and what continues to be a trend the opposition were much bigger than us but that did not deter our boys from cracking in. Once again which is also forming a trend we just fell short of a great win. I am extremely proud of the way we are improving each week and I am certain a win is just around the corner. I want to take this opportunity to commend the behaviour of our parents after some unsavoury incidents by the opposition parents. I am very lucky to have good people at my side and I want you to know you did your Son, Club & yourself proud with your behaviour in very trying circumstances. Have a good week off & I will see you guys in 2 weeks.