Sponsor:
Coach:
Gary Cutler - 0415 160 548
Team Manager:
Ange Bellissimo - 0458 022 342
Age Group Manager:
Mick Batchelor - 0417 508 288
Training Times:
Tuesday 4.30-6pm Greensborough Park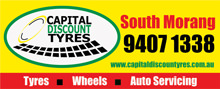 Round 8 - 06/15/2014
St Mary's Under 11 - 2014 Under 11 - Blue 7.5.47
vs.

Camberwell 3.6.24

I feel like a proud parent of 22 young boys after our fantastic win on Sunday. We travelled to Camberwell to take on the Sharks 7 without doubt played our best game of the year. For the 1st time in a while we had 22 great contributors & showed that when we all put in we will get results. Like I always say to you boys if you continue to work hard for each other the scoreboard will take care of itself. It started in the ruck with our ruck combo of Benny & Morgan giving us 1st use against bigger opposition both of the boys kept jumping in & in the end their Ruckman wasn't all that keen to compete well done boys. Liam marked everything all day & his telling marks all over the ground were a huge part of the win. Lucas played at CHB which was foreign for him but his strength down back was great. Eric, Charlie & Patty were our on-ball brigade & continually drove the ball into our forwards which allowed us to kick our highest score for the year. Ados kicked 3 majors in a role he is very good at & is fast becoming a very dangerous forward. Jordan who was Captain for the day on his 50th game was busy all day working both in attack & defence. We had a couple of firsts on the day both Charlie & Jaxon kicked their 1st ever goal I'm sure there will be many more boys. But I truly believe that it was the small things that got us the win, we had so many smothers & tackles on the day & the continual improvement from all our boys. The improvement in Grayson, Caleb, who were both desperate in defence is very important to our team as is the continuing improvement in all of us. We have a bye this week then play Ashburton at Home the week after ,we are only 2 games out of the 5 but we must keep improving & working hard to get there.

Ados (3), Liam (2), Charlie, Jaxon

Special Mention Jordan on his 50th game well done mate you played a great game.