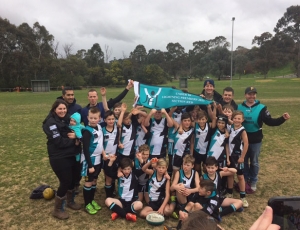 Well, the finals have arrived. From the 18 sides that could qualify for finals I can proudly announce that we have 12 of these sides progressing onto the first week of the finals. A terrific effort from those sides and good luck in the following weeks. Commiseration to those sides that missed out – I know you put your heart and soul into the year and I hope to see you back next year representing this great club.
It would be terrific to see as many people wearing St Mary's merchandise getting around supporting the teams that are playing this weekend.
The Under 10's last week played a round robin lightning premiership at Bulleen. All sides represented this club proudly with one side undefeated but missing out on a finals berth, whilst Under 10 Red (Leon Harvey Side) managed to bring home the premiership. A terrific effort from this side and congratulations on the effort.
It was great to see the club so full last Sunday evening celebrating the end of the home and away season, but it has not ended there. This Sunday the rooms will be open again from around 5-5.30. Everyone is welcome back. Pizzas will be provided for players.
Hope to see as many of you around the grounds on Sunday – again good luck to all sides playing finals.
Go Burra!
Paul Tobin
President
St Mary's Greensborough Junior Football Club