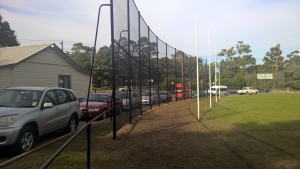 I would like to announce that Banyule City Council along with St Mary's GJFC have been working closely together to come up with a list of realistically achievable improvements for Greensborough Park. The agreed list will be jointly funded over the coming years.
It is with great pleasure that I can announce Stage 1, of a list of improvements to Greensborough Park, has now been completed.
Stage 1 included the installation of a 'catch net' at the community centre end of Greensborough Park, along with the realignment of the goals to make the ground more symmetrical, and the replacement of the old timber fence.
Banyule City Council funded the improvements to the fencing and St Mary's GJFC all set to pay for the realignment of the goal posts…however in an act of generosity, the contractor engaged by council to carry out this work, Melbourne Chain Wire Fencing, offered to do this work FOR FREE to help support our club!
On behalf of St Mary's GJFC I would like to thank Andrew Caddy and his team at http://www.melchain.com.au/, a subsidiary of the Pro Wire Fencing Group, for their generous donation of time and materials and their willingness to support our club.
WATCH THIS SPACE for details of Stage 2 of the Greensborough Park improvements
Paul Tobin
President
Mary's Greensborough Junior Football Club